Hiking to Jeep Arch in Moab, Utah
Jan 23, 2022
Affiliate Disclaimer: Some of the links in this post may contain affiliate links, which means if you click through and make a purchase, I will receive a small commission at no extra cost to you.

---
Hiking to Jeep Arch in Moab, Utah
Jeep Arch, also known as Gold Bar Arch, just may be my favorite hiking trail in Moab. It's dog-friendly, not open to mountain bikes or OHVs, and the best part? There are no fees! The trail strikes a nice balance between being fairly easy while providing some tricky obstacles to navigate, which makes this desert hike so fun. The pinnacle of the hike involves hiking through a towering sandstone arch that bears a remarkable resemblance to Moab's favorite motorized vehicle.
The hike to Jeep Arch isn't as popular as some of the other well-known arches in Moab, and you may be lucky enough to have most of the trail to yourself if you hike at sunrise or visit in the winter, but since it has easy access and it's a low-effort, high-reward type of hike, it can see a fair amount of traffic during peak season in the spring and fall.
The trail is suitable for hikers of all levels, but there are a couple portions of the trail that require some light scrambling where using your hands is necessary. These sections aren't dangerous or exposed, but could be tricky to navigate for small children or older dogs.
I personally think that winter is the best time to visit Moab (between December-February). The temps can be cold and you may encounter snow, but there are much fewer people on the trail than during other times of the year (although holidays can be busy!). For the most comfortable hiking conditions visit in March, April, October, or November when mornings will be chilly and afternoons will be pleasantly warm. If you're planning to hike during the summer or on a hot spring/fall day be sure to get an early start so you can be off the trail before the heat of the day.
Getting There
The trailhead for Jeep Arch is on Potash Road outside of Moab. To get there, take Highway 191 to Potash Road (UT-279) and follow it 10 miles to a parking area on your right. The Jeep Arch trailhead is just beyond the trailhead for the more popular Corona Arch across the street from Gold Bar Campground.
Even if you're not planning on hiking Jeep Arch, Potash Road is worth taking a scenic drive down. The road is situated on a small stretch of land between the Colorado River and a towering red sandstone canyon wall. It's one the prettiest scenic drives in Moab on a paved road (the road eventually turns to dirt and gradually climbs into Canyonlands National Park, but that is beyond the trailhead for Jeep Arch). You'll likely encounter some rock climbers on Wall Street belaying right next to the road, so be sure to drive carefully!
There are 3 first come, first served campgrounds available on this side of the river if you're looking for nearby camping, but be aware that sites fill quickly during most of the year! For your best chances at snagging a spot try to arrive mid-morning when campers are packing up and leaving.
The Trail
The trail begins by making your way from the parking lot to a portal-like tunnel that crosses beneath train tracks. At the beginning of the hike is a sign asking hikers to keep dogs on-leash because the hike goes through bighorn sheep breeding habitat. There are plenty of other trails in Moab where off-leash hiking is permitted, so please be respectful of the restrictions here!
After passing through the portal you enter a rugged desert landscape with towering sandstone walls, juniper trees, red sandy washes, and slickrock trails. Follow the cairns up a hill to the left and hike alongside the train tracks for about 0.1 miles before heading towards the obvious trail on the right.
The initial stretch of the trail to Jeep Arch primarily traverses over slickrock. The trail is well marked with forest green blazes on the slickrock, so it's not difficult to follow (because the trail is so open, but well marked, it also makes a great place to practice basic desert route finding skills). Slickrock is considered a durable surface for Leave No Trace purposes, so it's okay to roam around and explore, but be mindful to stay on the slickrock (or a developed trail) and off of the cryptobiotic soil, which plays a critical role in preventing erosion in the desert.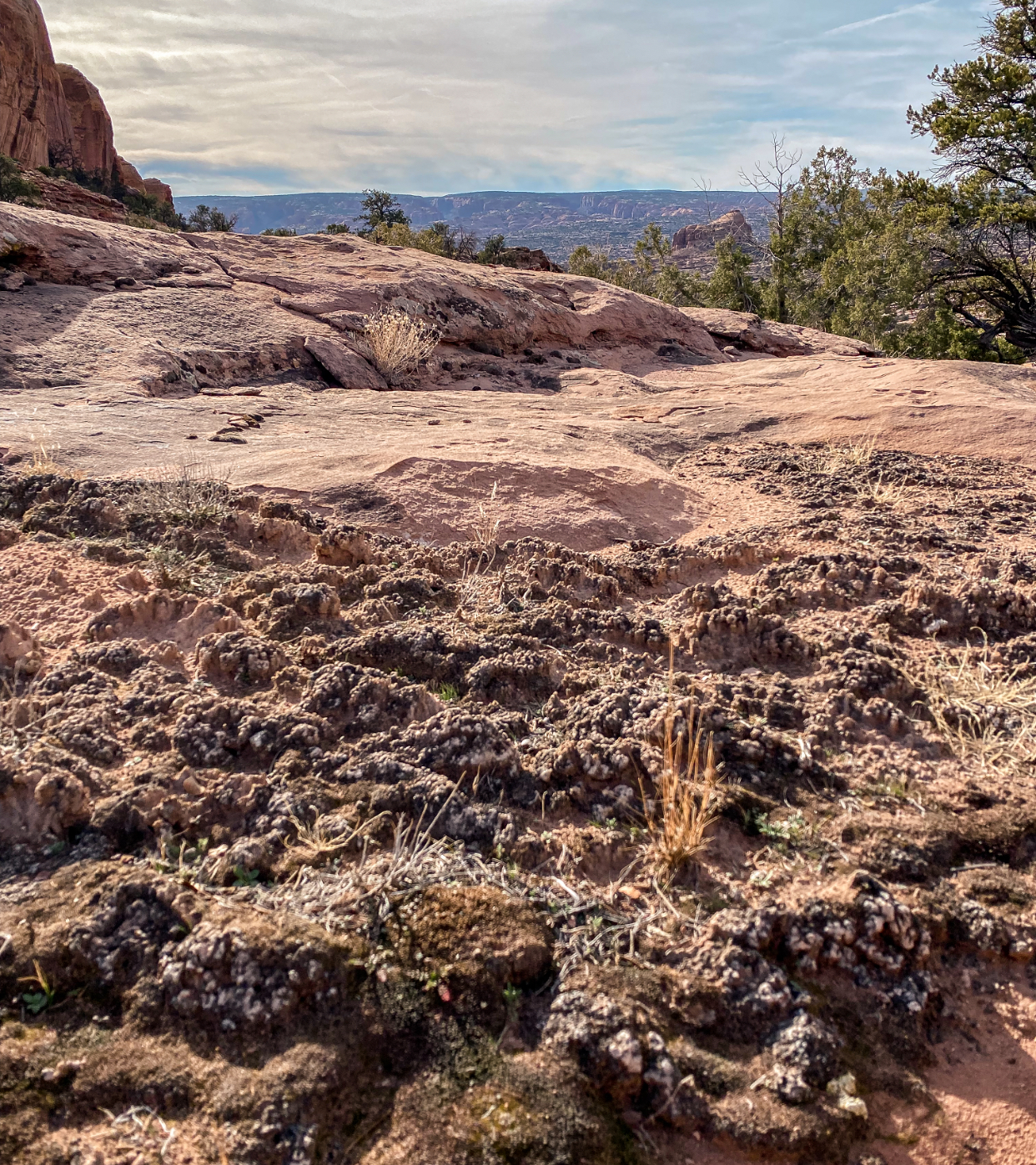 The entire hike creates a lollipop loop. In other words, you'll hike the beginning of the trail as an out and back, but eventually the trail diverges and creates a loop that will then take you back to the point of divergence.
After just over a mile of hiking you'll encounter the trail junction marked with a wooden sign. From here, I would personally recommend completing the loop going clockwise. This will take you around the back of Jeep Arch first, which is where the best views are!
Heading clockwise, you'll quickly begin to gain elevation as you scramble your way up to a rocky ridge crest next to a large sandstone spire. Once you're beyond the ridge crest you'll cross a patch of slickrock before following a well-defined trail across the desert.
There's a bit of scrambling required to get up to the ridge crest, which may be tricky for small or older dogs!

After a quarter-mile the trail turns North providing the first glimpse of Jeep Arch. Once you're near the base of the arch you'll have to scramble up some rocks in order to cross beneath the arch and get to the other side of the trail. Standing under the arch is an incredible experience and provides spectacular views of the La Sal mountains in the distance.
Once you cross under the arch the trail begins to descend down towards your right. This section of the trail has some loose sections, so make sure to wear hiking boots with good traction and take your time!
The trail eventually leads back to the junction where you began your clockwise loop. From here just follow the same trail you hiked in on across the slickrock, head back down through the tunnel, and make your way back to your car!
Hiking in the Desert
If you live in a humid climate or are unfamiliar with hiking in dry, desert environments, this hike may feel more strenuous than you expect. Don't be afraid to take things slowly and carry more water and snacks than you ordinarily would on a 4 mile hike.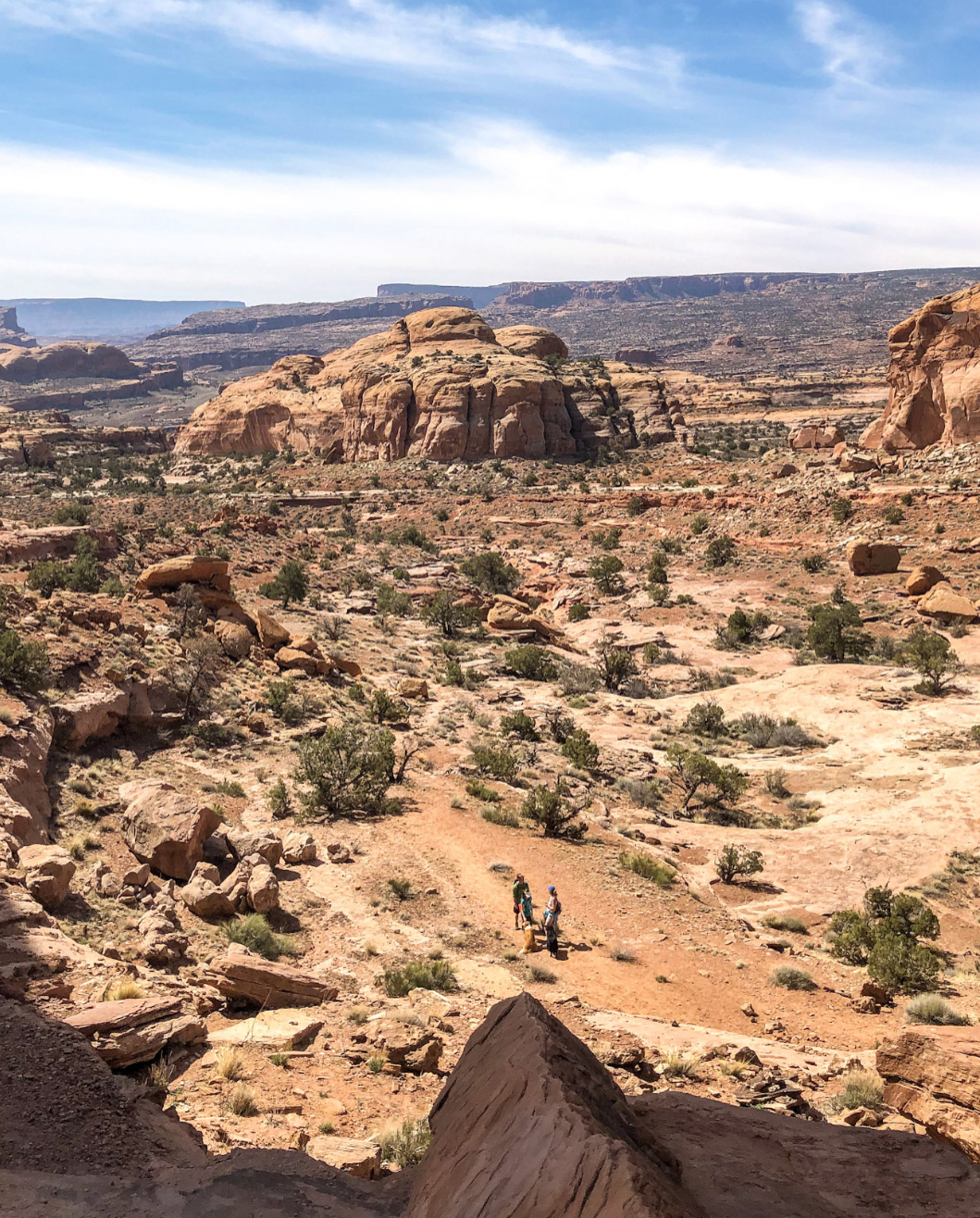 Here are some other important tips to remember when hiking in the desert:
🏜 Start early to beat the heat if you're hiking between May-September (aim to be off the trail before 10-11am).
🏜 Carry more water than you think you'll need. At least a gallon per person per day is recommended for hiking in the desert, but considering the distance of this trail carrying 2-3L should be more than enough. Be aware, there aren't any reliable water sources on the trail so be sure to carry enough water for your dog if you're hiking with your furry friend!
🏜 Remember sun protection- sunglasses, hat, sun shirt, sunscreen!
🏜 Don't bust the crust! Much of the land in the desert is covered in biological soil crust, otherwise known as cryptobiotic soil. Cryptobiotic soil plays a critical role in the desert ecosystem and is extremely delicate. It can take years to decades to recover from damage, so it's important to stay on trail, or travel over durable surfaces like dry washes or slickrock, to avoid disrupting the cryptobiotic soil!
🏜 Make sure to pack salty snacks or an electrolyte replenisher like Liquid I.V. to help prevent dehydration.
🏜 You may have cell service intermittently throughout the hike, but it's not reliable so be sure to download or carry a map and know your route before you go. Also be sure to tell someone where you're going!
🏜 As always, tread lightly and treat the land with respect by following Leave No Trace guidelines!
Quick Stats
Distance: 3.6 miles
Elevation Gain: 945 ft.
Starting Elevation: 3,963 ft.
Difficulty (1-10): 6
Estimated Time: 2 ½-3 hours
Dog Friendly: Yes, dogs should be kept on-leash. Also be sure to pack out all pet waste!
Download The Top 5 Resources for Finding Epic Hikes
....................

Discover the best tools, tips, and resources to find hiking trails no matter where you live or travel.

Don't worry, we'll never send spam and you can unsubscribe at any time.